"The daughter who won't lift a finger in the house is the same child who cycles madly off in the pouring rain to spend all morning mucking out a stable." ~Samantha Armstrong
______________________________________________________________________________________________________
2019 Registration is now open!!!!!.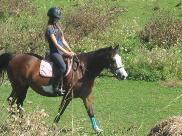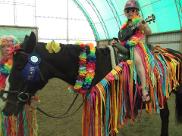 Legacy Summer Riding Camp is every horse lover's dream.
A fun, safe affordable program that has something to offer every level.
***** Thank to our wonderful campers and parents for making 2018 our most successful year yet! *****
20% off all camp prices for registrations received by December 31st.
___________________________________________________________________________________
Day Camp

Day Campers will enjoy lots of hands on horse time with our group of wonderful, experienced horses. Outside of riding time, there is lots of fun to be had playing in the open fields, taking care of the horses and a chance to cool off indoors with some neat activities and get soaking wet on those really hot days. Campers then have the chance to demonstrate everything they've learned with a show for parents on Friday afternoon. Extended hours can be arranged upon request. A maximum of 10 to 12 campers per week will be accepted.
1/2 Day AM 9:00a.m.-12:30p.m. 1/2 Day PM: 12:30p.m.-4:00p.m. Full Day: 9:00a.m.-4:00p.m.
Half Day: $175.00 Full Day: $290.00
Residential Camp
Residential campers will have the added benefit of evening rides, bowling night, campfires, movie night, night barn checks and listening to the horses under the stars. Campers will also have 3 balanced meals daily as well as snacks. With our small camp sizes though we're able to easily accommodate a number of food requirements. If you or your child have any questions or concerns regarding dietary restrictions or food preferences please let us know at least 2 weeks prior to their camp session. A maximum of 8 to 10 campers per week will be accepted.
Regular Program - $645.00 Teen Program - Please inquire for pricing.
2019 Summer Session Schedule
July 7th to 13th - Day & Residential Program
July 15th to 19th - Day & Residential Program
July 21st to 27th - Day & Residential Program
August 1st to 11th - Teen Overnight Program
August 19th to 23rd - Day & Overnight Programs
--------------------------------------------------------------------------
Deposits are required to hold spaces.
1/2 Day - $25.00 Full Day - $50.00 Residential - $100.00
Additional 1% discount for EMT payments.
Payment can be made via cash, cheque, Email Money Transfer or PayPal.

*****Payment plans for camp are available. Please contact us for details.*****
_________________________________________________________________________